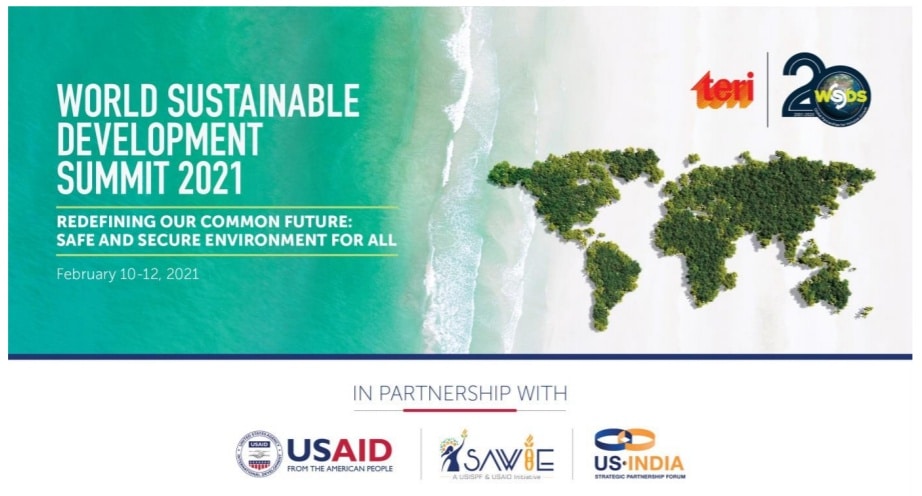 Session I: Diversity & Inclusion: Gender Equity as a Business Imperative
Panellists: Ms Katie McGinty, Vice President & Chief Sustainability, Government and Regulatory Affairs Officer, Johnson Controls; Dr Laurel Harmon, Vice President (Government Affairs), LanzaTech; Ms Christine Lins, Executive Director, Global Women's Network for the Energy Transition (GWNET); Ms Alexandra Palt, Chief Corporate Responsibility Officer, L'Oréal
Moderator: Ms Gauri Jauhar, Executive Director, IHS Markit
—————————————————————————————————————-
Session II: Advancing Women Leadership in Business
Panellists: Ms Rana Ghoneim, Chief, Energy Systems and Infrastructure Division, UNIDO; Dr Sujatha Narayan, Regional Vice President, Wabtec Corporation India; Ms Rachel Kyte, Dean, The Fletcher School, Tufts University; Ms Susan Ferguson, Representative, UN Women India
Moderator: Dr Shalini Sarin, Co-Founder & Executive Director Elektromobilitat; Co-Chair SAWIE
---
The opening remarks were given by Ms Monali Zeya Hazra, Regional Energy Manager and Clean Energy Specialist, Indo Pacific Office, USAID/India, who highlighted that women continue to encounter barriers in industries that are traditionally dominated by men, and that gender equality and women empowerment are important for sustainable development. Ms Hazra briefly shared the various initiatives undertaken by USAID that support gender equality and women's leadership, including SAWIE.
Session I
In her opening remarks, Ms Gauri Jauhar set the context for the ensuing discussions by highlighting the findings from a recent McKinsey report that stated that if women are brought into the workforce in their full potential, US$ 28 trillion could be added to the world economy by 2050.

Ms Katie McGinty stated that the organizations where women are in leadership roles outperform as there is greater perception of market trends, increase in the agility of the organization, and the ability to drive ahead of trends. Dr Laurel Harmon opined that innovation and diversity would be the key to reshape the world while recovering from the pandemic. According to Ms Christine Lins, women lack role models in the energy field and the Global Women's Network for the Energy Transition (GWNET) works to empower women to enter the market and in career advancement. Ms Alexandra Palt described the various efforts taken by L'Oréal to ensure diversity in their leadership, workforce, and brands. She highlighted that a generation of women is emerging that would not accept inequality, and would expect organizations and brands to be supportive of this. The session progressed to a moderated discussion on issues of diversity and actions to ensure it. Dr Laurel Harmon commented on ensuring gender diversity during collaborations and partnerships, which includes there is interaction of women on the team with partners.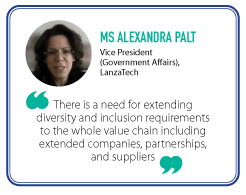 Ms Alexandra Palt emphasized the need for extending diversity and inclusion requirements to the whole value chain including extended companies, partnerships, and suppliers. Social audit of suppliers has been a key initiative along with encouraging transitioning from a minimum wage to living wage scenario. According to Ms Christine Lins, gender and energy networks across the globe face similar issues and they provide a platform to them to discuss these issues andfind solutions. They also work with next-generation women in different parts of the energy sector and put them in touch with their peers and mentors.
The panel unanimously agreed that in order to drive change, gender issues should be treated as everybody's issues and companies should provide the flexibility to accommodate domestic issues and challenges faced by women. Furthermore, investors should be encouraged to insist on changes for diversity and inclusion, as boards tend to listen to investors more.
Session II
Dr Shalini Sarin opened the session with remarks on the current pandemic and how it has disproportionately impacted women's careers. She emphasized the role of women in leadership to make decisions to bring about change.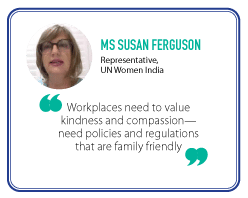 According to Ms Rana Ghoneim, women form one-third of the workforce in renewable energy, but are fewer when it comes to leadership roles. Similarly, in the UN, in entry level positions, two-thirds are women, but at leadership positions it becomes one-third with respect to men. Ms Rana also highlighted some of the stereotypes faced by women at the workplace, such as the misconception of being aggressive as opposed to assertive, when women express their opinions. She also encouraged women to reach out and seek support, and that there should be an ecosystem of support, which must include men. Dr Sujatha Narayan highlighted that things have improved from 30 years ago in terms of having women at leadership positions. But overall women in leadership roles are very few. This is a complex problem. Companies need to understand a woman's world and the kind of challenges they face on a daily basis and must take steps to ensure women do not drop out. Ms Rachel Kyte reiterated that more diversity leads to better decision making. There should be diversity in companies as well as local and national governments. She called for the need of regulations and policies that support women's careers being sensitive to domestic responsibilities. Moreover, diversity issues in different countries are different; so mentoring and sponsorship methods should itself be diverse. Ms Susan expressed that there are many invisible barriers that also constrain women. For instance, domestic violence and the ensuing social isolation are impediments to women taking up any roles outside the house. Furthermore, she highlighted the unconscious bias that women face at work, such as emphasis on women to be likeable, or taking up jobs that complement their traditional roles as care-givers, like teaching. This is a shared problem, and everyone has a role in opening up doors for women to take up leadership roles.